Log-in here if you're already a subscriber
While much of the industry's focus on geopolitical tensions has centered on friction with China, Russia's industrial interconnectedness with global aerospace has the potential for disruption "in a way that China never could," said Kevin Michaels, Managing Director of AeroDynamic Advisory. Any restrictions that sever Russia's industrial and financial links to the west "could shut down the commercial aerospace supply chain fairly rapidly."
Related: Russia's western aerospace uncoupling
For the businesses already trying to plan in the middle of a pandemic, whether aircraft and engine manufacturers, airlines, lessors or suppliers, any escalated confrontation – including the risk of an invasion of Ukraine by Russia – only further upsets the "stable international order" on which civil aviation depends, said one senior supplier executive.
Subscribe to TAC
Amassing Russian forces in Belarus and Russia are already driving down stock markets and advancing a precipitous rise in global oil prices for the world's airlines. The price per barrel of oil collapsed in spring 2020 with the arrival of COVID-19 accompanying the cratering of air travel demand. Since then, the global jet fuel price has risen to $103.01 per barrel, a staggering 74% in the last year, according to IATA tracking.
While the U.S. contemplates the deployment of 8,500 U.S. troops to NATO allies that border Ukraine, the Biden Administration has threatened sweeping economic penalties against Russia that would significantly disrupt its economy and its links with the west. The potential sanctions range from halting construction of the Nord Stream 2 pipeline that will feed Germany with Russian natural gas and "novel export control" to removing Russia from the SWIFT banking system, a move that would have a sweeping impact on all sectors of the economy.
The Air Current explains how the interconnectedness of the global commercial aviation ecosystem leaves it exposed to another major shock if Russia advances on Ukraine.
Airspace disruption
Operationally, any expanded conflict risks immediate disruption to the airspace across eastern Europe. The shoot down of Malaysia Airlines Flight 17 in July 2014 highlighted the lethal risks to civilian aircraft transiting through Ukrainian airspace and many countries, including the U.S., have prohibited their aircraft from transiting eastern Ukraine where fighting has been the most intense.
Today, there are numerous active notifications from the FAA warning of "heightened military activity and dedicated anti-aviation weaponry" in the area and GPS navigation interference around Ukrainian Flight Information Regions.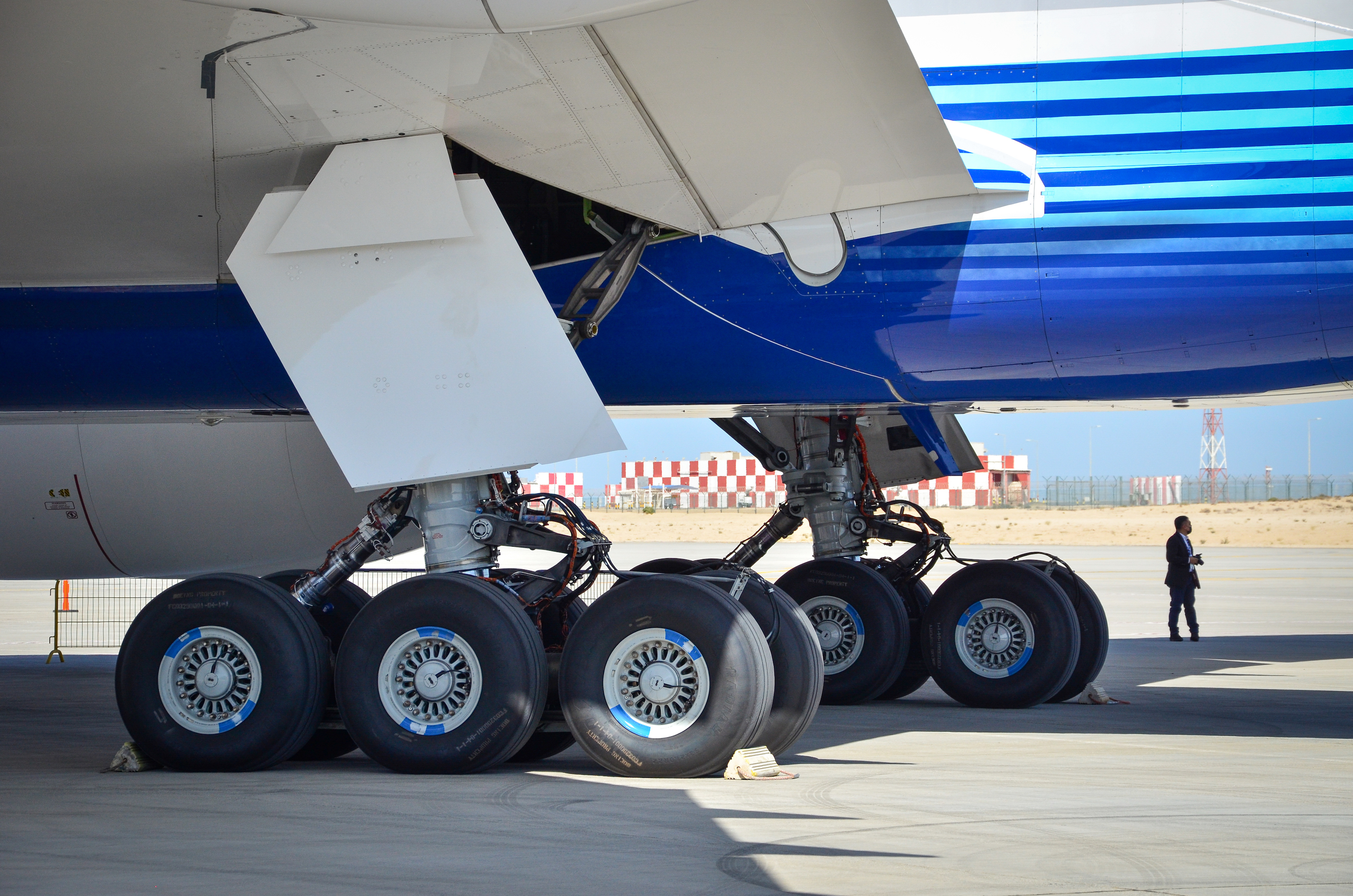 Titanium supply chain vulnerability
Boeing, Airbus and Embraer are heavily reliant on Russian titanium. Russia's VSMPO-AVISMA provides 30-35% of the titanium for aerospace. Its majority owner, Russia's defense export firm, Rosoboronexport, has been repeatedly sanctioned by the U.S. over geopolitical flashpoints, including the 2014 Russian annexation of the Ukrainian region of Crimea following the start of Ukraine's civil war.
Today, VSMPO supplies 100% of the titanium for Embraer, and roughly 65% for Airbus and 35% for Boeing. New twin-aisle aircraft like the 787, A350 and 777X all rely heavily on titanium. The lightweight and extremely strong metal is particularly compatible with carbon fiber composites given how they expand and contract with heating and cooling, as well as their resistance to galvanic corrosion.
Concerns in 2014 about the titanium supply amid surging twin-aisle production rates prompted both Boeing and then-United Technologies to stockpile titanium parts. Russian titanium is predominantly used for aircraft structure, compared to rotating titanium found in engines.
Yet, one longtime senior executive in the aerospace materials supply chain told The Air Current that there isn't the same kind of 2014 stockpiling going on in 2022 – at least not at this point – principally because the collapse in twin-aisle aircraft demand left a glut of titanium parts that offer a natural buffer to any geopolitical disruption.
"As long as the geopolitical situation stays tame, no problem. We're protected, but not forever," said Boeing chief executive David Calhoun on Jan. 26.
Airbus did not immediately respond to a request for comment.
Export of titanium has long been a key economic priority for Russia. "Even in the Cold War the Russians sold titanium to the world," said Michaels. The Soviet Union, sitting on an enormous trove of titanium ore, first designed their submarines out of titanium. It wasn't until Lockheed and Kelly Johnson built the SR-71 for its ultra-high speed operations (at first from Russian titanium clandestinely sourced by the CIA) that the U.S. developed its own strategic capability.
Yet what Russia wants to continue to sell to the world versus what the U.S. and Europe will allow to be exported remains the central question, said Michaels.
Boeing in November renewed its long-term supply deal with VSMPO-AVISMA to provide titanium for all its commercial aircraft, except the 747-8.
The balance of the world's titanium mill products for aerospace come from Allegheny Technologies (ATI), Alcoa and Timet, which is owned by Berkshire Hathaway through Precision Castparts.
It would be a challenge for the trio to quickly pick up shortfall, said Michaels, who pointed out that for key components, such as landing gear structures on the 787 and 777X, if the supply of titanium forgings are cut off, it would take "years" to certify an industrial press capable of making the same parts.
Russian air transport & lessors
Russian flag carrier Aeroflot took delivery of 14 Airbus and Boeing aircraft in 2021. The airline has no more Boeing aircraft on order after receiving three 777-300ERs last year. Its tally from Airbus included seven A350-900s, two A320neo and two A321neos from Airbus in 2021 (three of four were leased). The Russian flag carrier has 14 more A350s on order, according to year-end Airbus data. S7 Airlines took a pair of A320neos in 2021 through AerCap.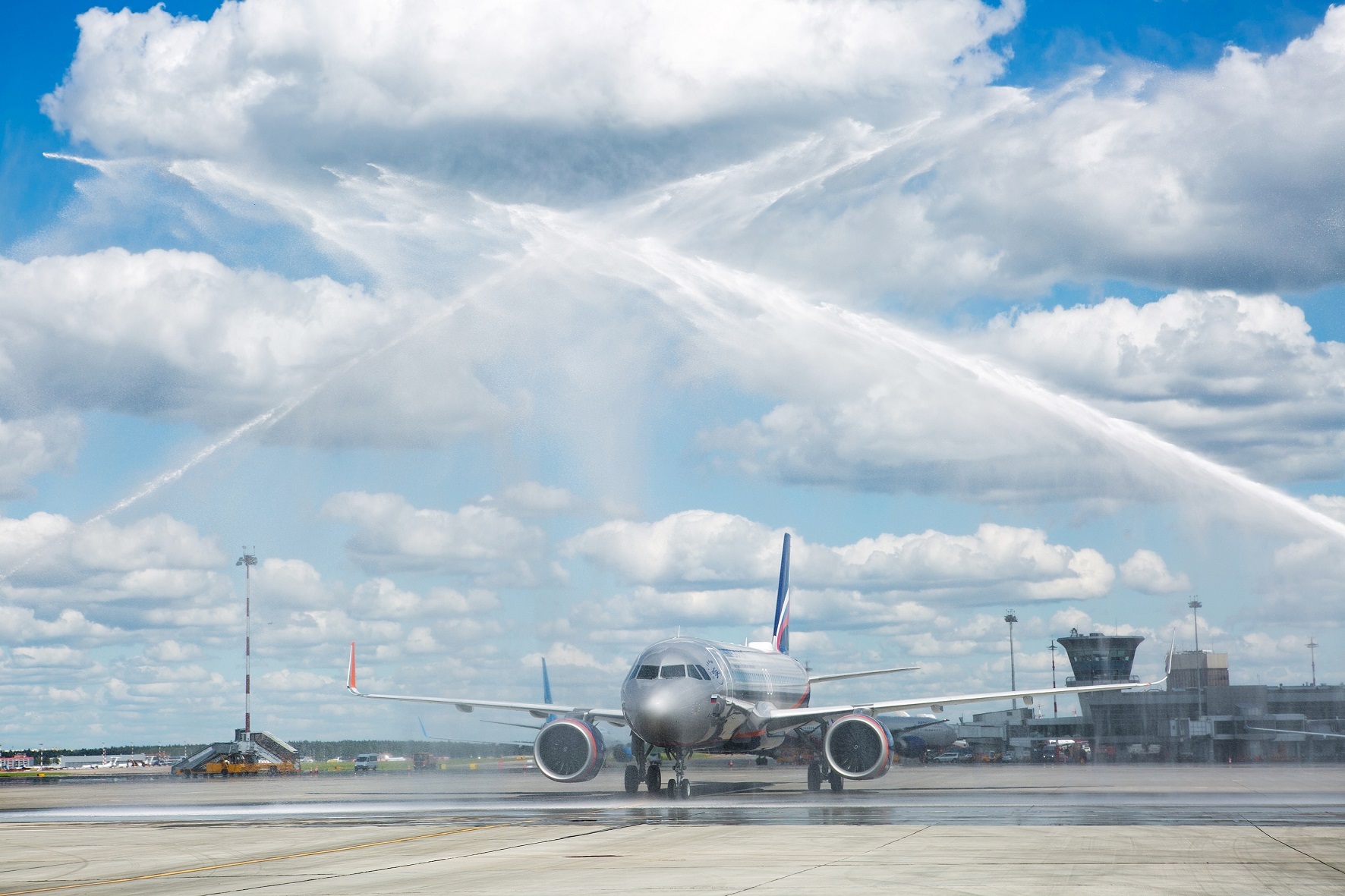 Removing Russia from the global banking system would also have an acute effect on lessors of aircraft operating in the country, which overwhelmingly take their payment in U.S. dollars or Euros. According to CH-Aviation, there are 745 active commercial and business aircraft operating in Russia today on operating and financial leases. AerCap, which recently merged with GECAS, owns 172 aircraft operating in Russia – fully 17% of the leased fleet. 
Related: Airbus & Boeing 2021 deliveries: An interactive data visualization
Russia has moved military equipment into Belarus, likely ensnaring the nation in any economic penalty levied against its close ally. Belarus and flag carrier Belavia are already under sanction from the E.U., U.S. and U.K. for illegally diverting a Ryanair flight to Minsk to detain a journalist in May 2021.
Belavia has another four 737 Max 8s on order with Boeing, many already built and in storage at sites like Boeing Field in Seattle, as does Siberia's S7 Airlines. UTAir has a pending order for 50 Max aircraft as well. Russia's aviation regulator is among the last countries to recertify the 737 Max for service.
Irkut's Opportunity
Any sanctions that block the import of either western aircraft or engines (either directly or through lessors) sets up both a challenge for a booming Russian domestic market and an opportunity for its homegrown single-aisle to eventually fill the gap.
Irkut, a unit of Russia's United Aircraft Corporation, won local certification of its next generation MC-21 airliner at the end of 2021, clearing Aeroflot subsidiary Rossiya to begin operating the aircraft in the summer of 2022.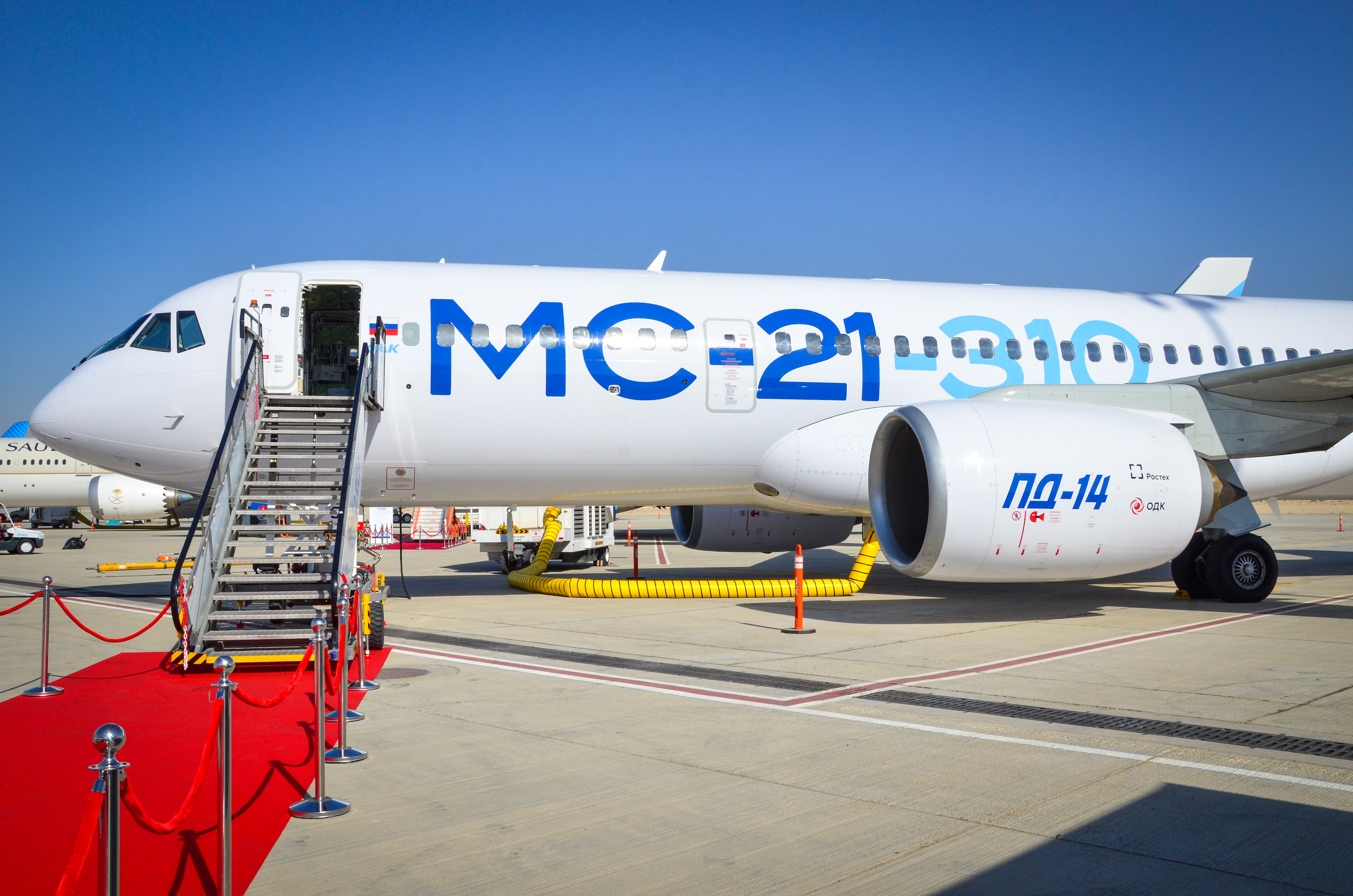 The first model was cleared by Russian aviation regulator FATA with Pratt & Whitney's PW1400G engines. While it will take its cues from any U.S. government guidance, Pratt officials are under the working assumption that any sanctions would make delivery of PW1400G engines to Russia for the MC-21 a non-starter. Irkut still has to prove its ability to support the MC-21 after it enters service, but Russia for the first time has a comparable domestic alternative to the A320 and 737.
Irkut is currently in flight testing with its MC-21-310, a variant of the aircraft powered by all-new Aviadvigatel PD-14 engines. The need for a domestically-made engine comes as Russian aerospace has been steadily decoupling from western suppliers over the past half-decade, following a brief but optimistic wave of openness between aerospace companies. 
Irkut was forced to re-design the wing of its MC-21 with locally-procured composite materials for its out-of-autoclave construction. Its first aircraft flew in late December with that technology. 
In November, head of the aviation department at the Belarusian Transport and Communications Ministry, Artem Sikorsky reportedly said the country may switch to Russian aircraft if the west imposes a ban on leasing aircraft to Belavia.
Write to Jon Ostrower at jon@theaircurrent.com
Subscribe to continue reading...