This post is also available in:
English (英语)
Make The Air Current's award-winning in-depth coverage, trendspotting and analysis a core part of your professional work. TAC/Pro is designed with your team in mind, building on The Air Current's reporting and analyses with valuable professional features, tools and access that help you work smarter and a leap ahead.
TAC/Pro is a must-have for industry professionals. We're delivered to the inboxes of the C-suites and top decision makers at aircraft and engine manufacturers, airlines, lessors, governments around the world, startups big and small, suppliers at all tiers, labor groups, investors and the financial community.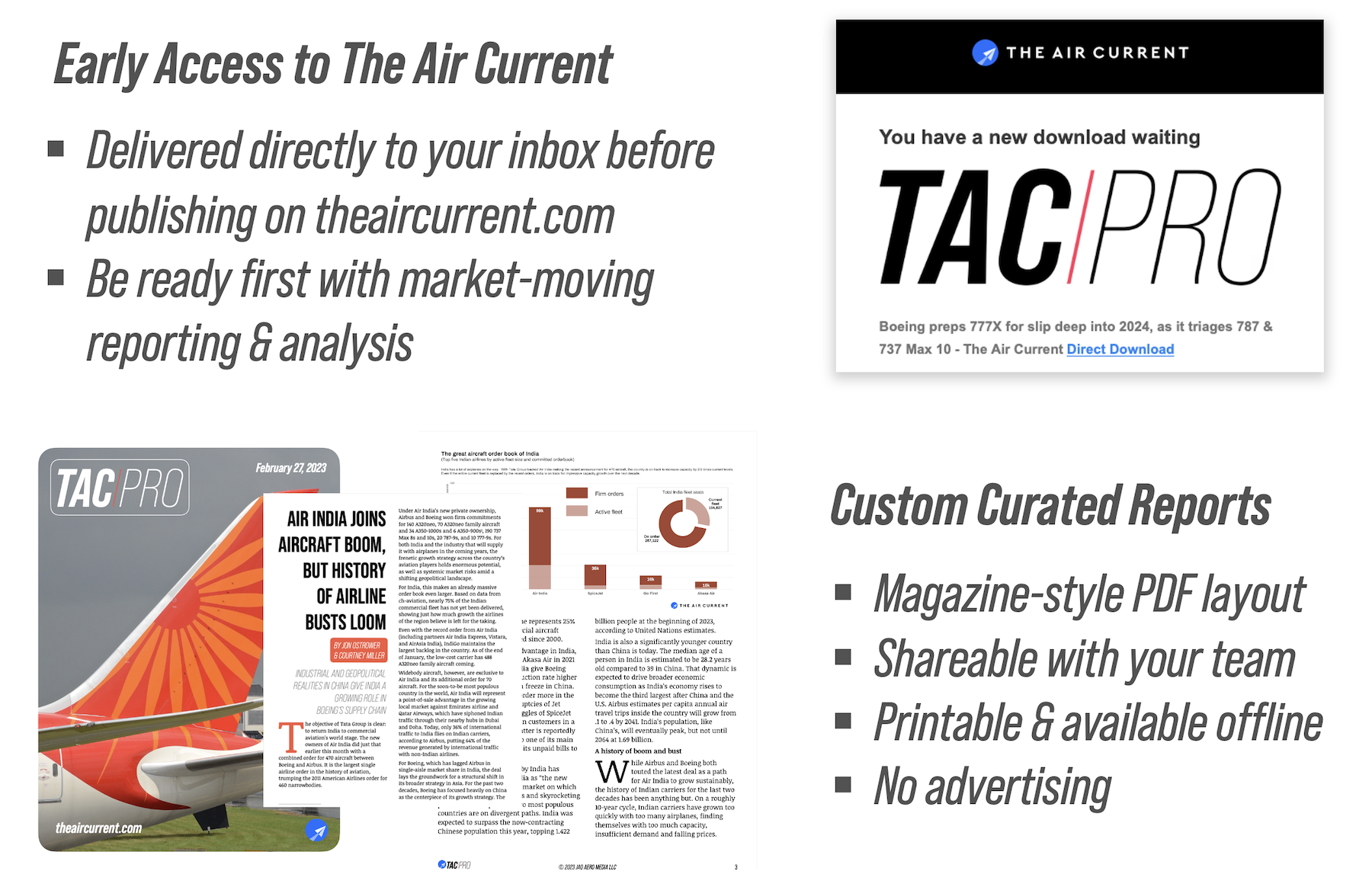 We look beyond what's happening today – to what's coming tomorrow – with deep, data-driven reporting, analysis and exclusive insight from industry leaders.
TAC/Pro starts with four user logins to enable your team to access our business intelligence.
Early access notification and email delivery of our reporting and analyses before publication on theaircurrent.com.
Access to downloadable advertising-free PDF copies and/or gift linking of TAC reporting and analyses for portability and offline reading.
Access to Airflow, our powerful new AI-powered industry newsfeed that we built with Hype Aviation.
Full access to TAC's Chart, Graphic and Data Visualization Library, reproduction and republication rights for your professional work.
First priority for our TAC/Forum digital events.
Chinese language translations of select articles and analyses.
Wide redistribution and republication rights and full enterprise access are also available.
Contact us to learn more about our corporate and enterprise plans and join leaders throughout the aerospace and airline industry who deeply value TAC/Pro.