Log-in here if you're already a subscriber
The COVID-19 pandemic is now the greatest crisis the world's aviation industry has experienced.

With no prior crises with which to compare and a broad spectrum of unknown possibilities still to play out, predicting the possibilities of the next 12 months becomes impossible using traditional techniques.

A new analysis from The Air Current using decision tree modeling suggests the impact will have long-lasting effects on the U.S. industry.
The coronavirus pandemic of 2020 is the aviation industry's greatest crisis in history. Already, airlines around the world have taken unprecedented steps to preserve their existence. Delta Air Lines and American Airlines in recent days unveiled broad reductions in capacity of at least 40%, grounding nearly 500 airplanes as demand for air travel evaporated in response to the spread of COVID-19. United announced on Sunday a 50% cut in capacity, Qatar Airways is suspending passenger flights to and from Doha, and SAS will leave only 10% of the carrier operating. Monday brought a 75% cut at British Airways and Iberia parent, IAG. More record-breaking capacity cuts from other airlines are inevitable.
Related: Coronavirus pushed U.S. airlines to the brink of some form of shutdown
The depth and rapidity of these drastic changes make it difficult to maintain context of what the industry is experiencing. Early comparisons to SARS proved inadequate once COVID-19 spread beyond China. Later comparisons with the U.S. terror attacks on September 11, 2001 seemed hyperbolic, yet announcements of capacity reductions last week eclipsed even those of the former greatest crisis to the industry.
There is now no precedent from which to compare the potential impacts and recovery. This crisis is singular.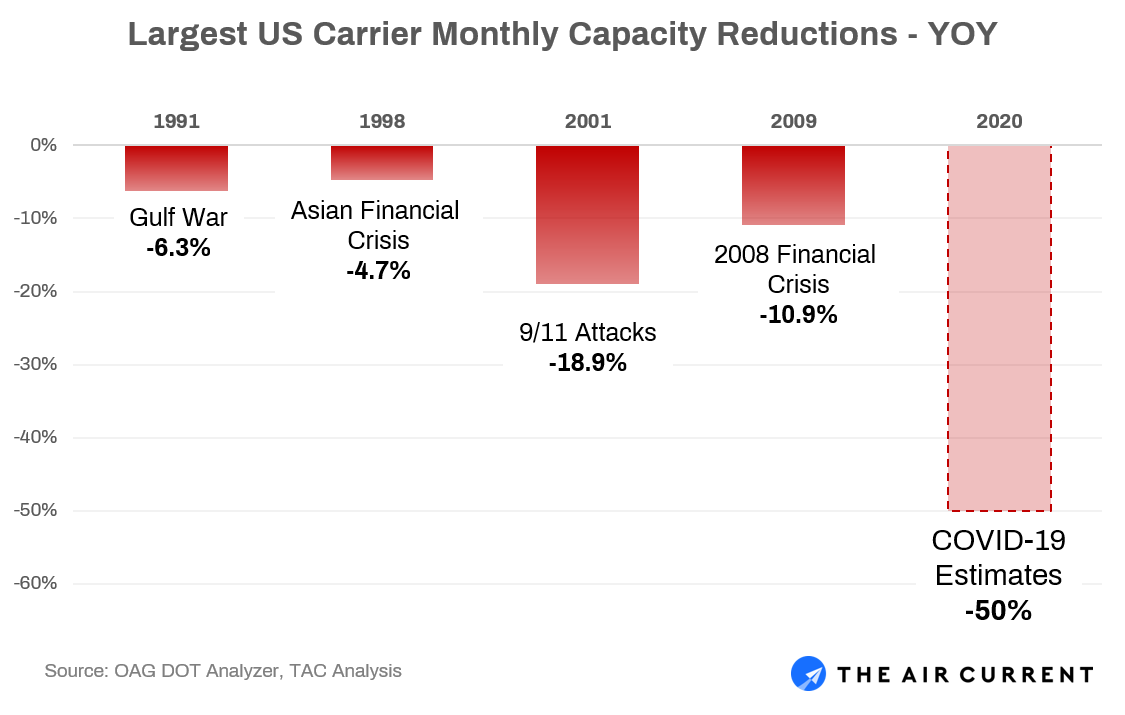 It is now impossible to use traditional forecasting techniques to determine the bounds of the extent of the damage may be and how the recovery may play out. Overnight, the pandemic rendered the vast majority of industry models inaccurate at best, useless at worst. New techniques are now required to focus on defining what can happen next, within the context of what we know and the compounding likelihood of each possibility.
Continue Reading...