NEW: Mitsubishi SpaceJet Strategic Briefing

A comprehensive collection of articles and analyses authored by

The Air Current

on the development of the Mitsubishi SpaceJet. The seven PDF-format reports cover certification, industrial and product strategy, regional aircraft market dynamics before and after COVID-19, and detail the unfolding strategic landscape facing Japan's new entrant and the broader forces impacting its parent, Mitsubishi Heavy Industries.

Purchase now
The new airplanes of e-commerce
If this global pandemic has proven anything, it's that it has been a massive accelerator for trends across society. Automation, working from home, the decline in retail and the rise in e-commerce. "Online retail has done exceptionally well during the current crisis," wrote Cargo Facts in its recent 20-year freighter forecast. "While physical retail outlets were shut down, e-commerce platforms provided a near monopoly on most goods other than food and household items."
Small freighter aircraft are going to be increasingly important in the speed-driven e-commerce world for express carriers where Amazon and others see two-day delivery as a competitive advantage. Deployed on short and thin routes out of smaller hubs, the aircraft will compete for speed with the company's own trucks.
These aircraft may also be the only new airplanes in the world that any operator wants to buy right now. On Sunday morning in Wichita, Kan., Cessna took its new SkyCourier airborne for the first time. While thousands at Cessna are furloughed, the company has kept the project plowing forward. The prototype aircraft — in its passenger configuration — left Beech Field for a 2-hour and 15-minute flight. When Cessna first unveiled it in 2018, in a CNN headline I wrote called it "a flying delivery truck." Cessna wrapped a twin-turboprop aircraft around three LD3 containers so they could be moved seamlessly onto widebody freighters.
On the other side of the Atlantic, Stefano Bortoli, ATR Aircraft's chief executive, told employees in a message earlier this month that its first ATR 72-600 freighter had begun mating of its wings and fuselage on its Toulouse final assembly line.
Also not unrelated, electric propulsion company MagniX and AeroTEC plan to fly a modified fully-electric Cessna Caravan from Moses Lake, Wash. on May 28. MagniX and Harbour Air flew a similarly-electrified de Havilland DHC-2 Beaver in place of its Pratt & Whitney radial engine back in December. All of these developments have one common thread — FedEx Express.
FedEx will take delivery of at least 50 SkyCourier aircraft from Cessna between 2021 and 2024 (12 to 14 a year), according to its regulatory filings. Right now, they're the only announced customer for the new type. And that first ATR freighter on the assembly line is for FedEx, the first of at least 30 arriving starting later this year. FedEx is also the largest operator of the Caravan on the planet, with more than 200 in service as feeder aircraft. In no uncertain terms, FedEx is MagniX's dream customer for an STC-modified electric Caravan. Watch this space.
A traveler's uncomfortable new normal
There's an increasingly bold line between the measures put in place to give someone the confidence to fly safely and being so onerous that travelers just stay home and don't bother attempting the journey unless it's absolutely essential. But the industry is concurrently fighting against the tide of restrictions and new measures on the ground that aim to stem the spread of the virus, but also keep travelers away from the air.
CNN's Will Ripley, who has been the network's prime reporter on North Korea, flew late last week from Tokyo to Hong Kong. What's typically a four hour flight turned into a 21 hour saga. It's hard to call it an "ordeal" because that implies it was a series of things that went wrong. Instead, Ripley describes the new normal. Paperwork, spitting into a vial for a test, a hotel key that only works once while you wait for test results — all of this before you go into a mandatory 14 day quarantine and have to wear a tracking wristband. His experience underscored why the international travel recovery will lag behind domestic flying.
Airlines and plane makers have an existential interest in convincing travelers – crews, leisure and business – that they are at a low risk of contracting the virus that causes COVID-19 on a plane. Leeham's Bjorn Ferhm explored how air moves through a cabin and the stark difference between wearing and not wearing a mask.
Boeing and Airbus are putting their top engineering leaders in charge of their own efforts to persuade travelers. Boeing has put Mike Delaney, oft-quoted on TAC over the past two years, in charge of its Confident Traveler Initiative. Delaney previously was in charge of the company's digital transformation and its move toward fortifying model based systems engineering processes across the company. "Travelers and flight crews…need to know that from curbside to airplane and beyond, there is a coordinated system designed to help keep them safe in light of the pandemic," wrote Delaney in an open post on LinkedIn. Airbus last week launched a similar effort, putting its executive vice president of engineering, Jean-Brice Dumont, as its face, according to Aviation Week.
An internal Airbus presentation reviewed by TAC, titled Keeping Trust in Air Travel, details a series of probable initiatives the company is looking at, ranging from onboard hand-sanitizer dispensers to selectively blocking of middle seats to reduce the number of required cabin crew. Notably, Airbus recommended possible temporary reduction in maximum takeoff weights to limit takeoff and landing charges in conjunction with the loss of seats. Boeing hasn't laid out its own plans, but back in 2016 first previewed a technology it was working on for self-cleaning lavatories using ultra-violet light.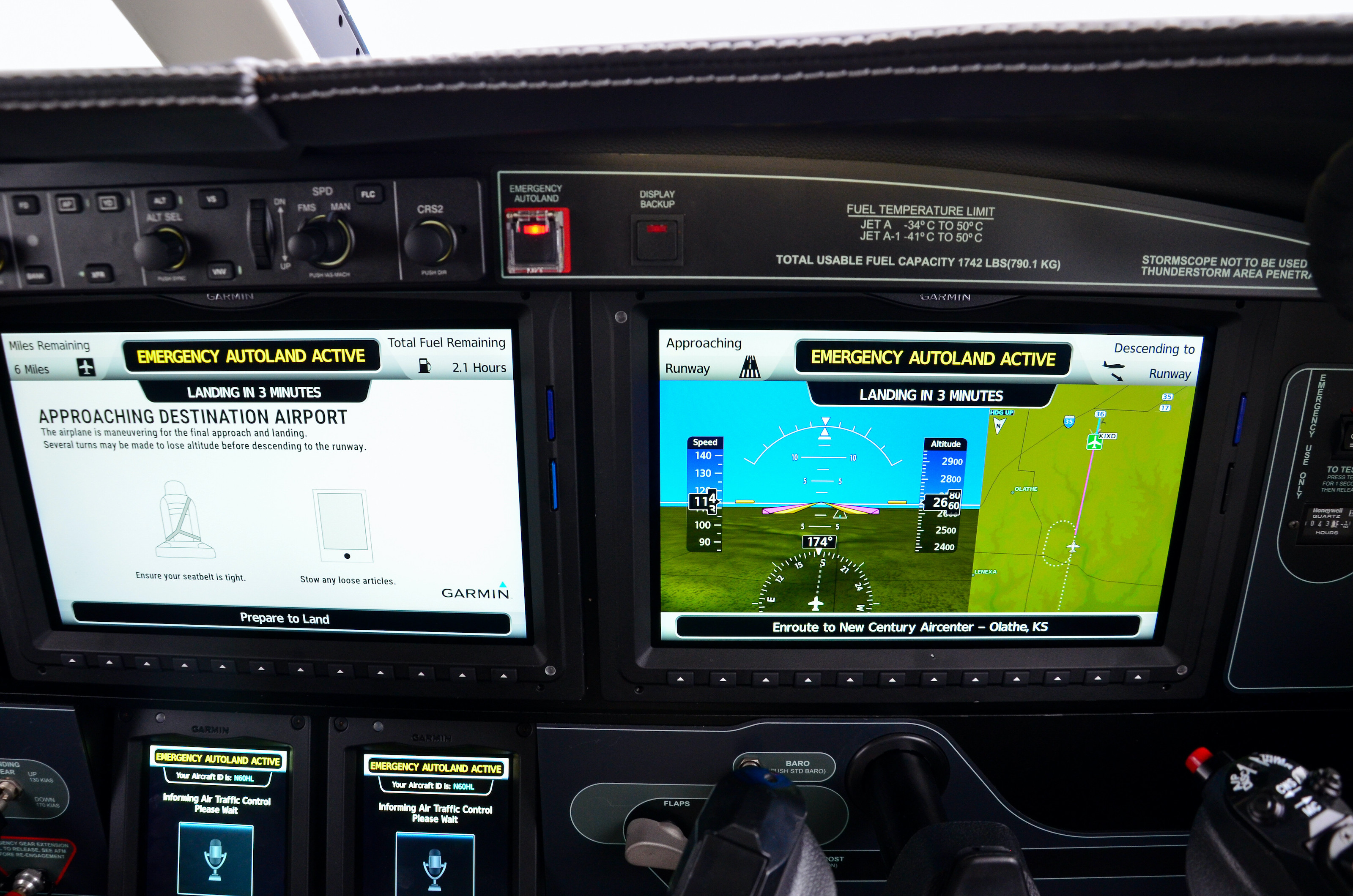 FAA certifies Garmin's Emergency Autoland
Piper and Garmin announced on Monday that the pair had been granted FAA certification of its Emergency Autoland system on the M600 turboprop. TAC was invited by Garmin last summer to go hands-off with the technology. With the push of a single button, the system gives full control to the aircraft to aviate, navigate and communicate its way to safely landing at the nearest suitable airport in the event of a pilot incapacitation. The feature is also offered for Cirrus's SF50 VisionJet and TBM's model 940.
Related: Emergency Autoland puts Garmin on the bleeding edge of autonomous flying
We formally profiled the system in a November feature and explored not just its capability in a catastrophic emergency, but the longer term potential for the system in normal operation for commercial aviation and its path to certification in the middle of the 737 Max grounding. It's more than worth a mention that both Cessna's SkyCourier and Caravan have Garmin avionics installed, the latter is already certified for single-pilot operations.
Other points of interest
Bloomberg: Delta is retiring its 777s and halving its 717 fleet
Aviation Week Webinar: Embraer's John Slattery on the state of the company
Wall Street Journal: 'What Did He Just Say?': Boeing CEO's Prediction Irks Airlines
Airbus's Digital Transformation guru Mark Fontaine leaves the company
GKN to supply wings, empennage, wiring for eViation's electric Alice