Purchase and download a copy of this article
Where a Boeing 777 ends an iPhone begins.
At Pinal Airpark in Marana, Ariz. a wrecking claw positioned itself to rip into the fuselage of a retired Air China 777-200. The rapid, but deliberate, disassembly of an airliner produces a particularly sickening kind of crunching sound. In under three minutes, the aft fuselage snaps under its own weight after repeated bites into its structure, its tail falling to pavement.
Its life as an airliner is over. Its mangled parts will be neatly collected and recycled. The 7000 series aluminum in this 777's 1998 vintage fuselage is the prime ingredient in Apple's modern flagship phones along with other mobile phones and smart watches.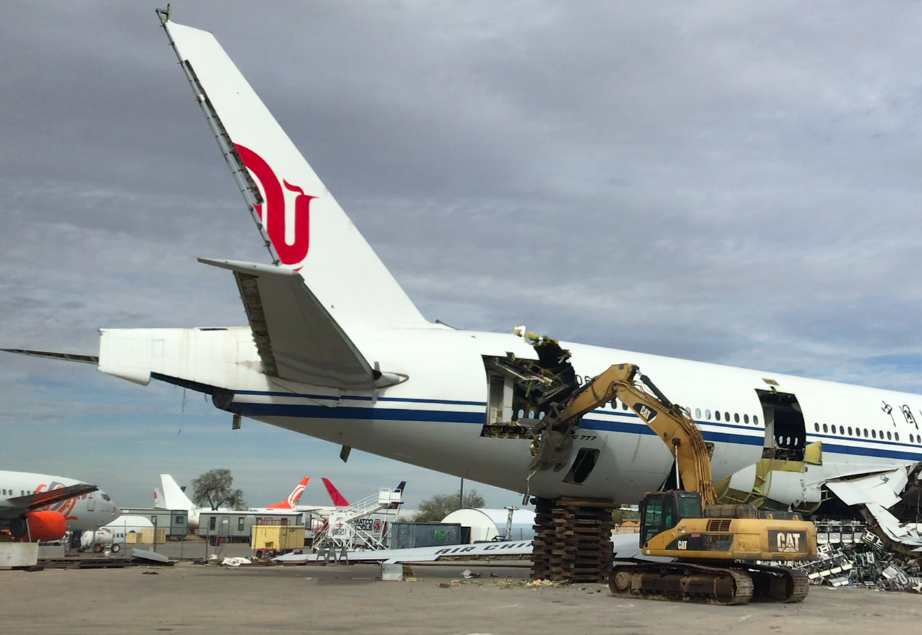 But this 777 is having trouble embarking on its second life in China. "We did not foresee the magnitude of the economic deceleration, particularly in Greater China," Chief Executive Tim Cook wrote in a letter to shareholders, forecasting its full year revenue would be down sharply on slow iPhone sales. "Over 100 percent of our year-over-year worldwide revenue decline, occurred in Greater China across iPhone, Mac and iPad."
The news from the economic bellwether shook the global economy. The slowdown in China — trade war or not — landed with full weight on Cupertino and Wall Street. But a drop in consumption of one of the most coveted goods on Earth sent a chill through an economic system that has pinned its future on Chinese growth. Apple and Boeing need China desperately. In 2017, China counted for 13% of Boeing's revenue and 15% of Apple's.
Subscribe to TAC
Related: A tempest rages around Boeing's quiet island outpost in China
There hasn't yet been any disclosed or quantifiable slowdown in Chinese flying, the engine that keeps Airbus and Boeing assembly lines producing at record speed. UPDATE: But for the whole of 2018, Boeing did not receive a single identified purchase from a Chinese airline or lessor. Airbus's 2018 tally is hardly better to the end of November — just 25 jets from two customers.1Fifteen A320neos from lessor CALC and 10 A350s for Sichuan Airlines.Airbus in its final 2018 figures added a firm order for 100 A320neos from HNA Group-owned lessor Avolon.
If orders have been collected by both in 2018, Chinese buyers appear reticent to put their names behind their commitments. The Chinese backlog lives in much of Boeing and Airbus's unidentified customer tally, awaiting the Government's final politically-tinged blessing.
The Lifecycle
But beyond the starting and ending point that connects both products, the unfathomably profitable franchises — Apple's iPhone and Boeing's 777 — are both facing the challenges that come with the later stages of a product lifecycle. As lifetimes go, the 777 is precisely twice as old as the iPhone.
Boeing's 777X is the iPhone Xs of airplanes. The fourth generation iteration of the original 777 that debuted in 1995 is still in its industrial cradle, but its development maps a near-identical product strategy to Apple's own flagship. Advanced technology, an incremental improvement and an ultra-premium price tag. (And more expensive components)
Related: The first GE9X engines find a home on 777X
Like the 777's last 24 years, the iPhone X has been continuously updated during its 12. Those changes, however, have been increasingly incremental with a smaller absolute improvement with each installment at a higher price tag. The latest generation mirrors one another. Each has moved toward larger models. More cabin area in a longer fuselage and new composite wings and 10% more fuel efficient engines for the 777X are the aviation equivalent of the latest A12 processors, advanced camera and larger display area for the iPhone.
More technology packed into the same form cruising head-long into a mature landscape against greater competition. Both have moved up market in their price tag. A new type of luxury good, the iPhone swears it's no budget telephone and the 777X is no jet for a low cost carrier. Blue chip customers only, please and thank you. Boeing and Apple marketing says this is a status symbol.
Worryingly for Apple and Boeing, in both you'll see the unmistakable shape of an S-curve and approach to the the top.2Piepenbrock 2009 and Red-Blue. Boeing on Monday said it had received orders for more than 2,000 777s. Apple, to its part, has sold nearly 1.5 billion iPhones.3Apple sold 217 million in 2018. Both are records for their industries, but the rate of growth has sharply slowed for their latest generations. To date, Boeing has received orders for 326 777X aircraft in its first five years on sale.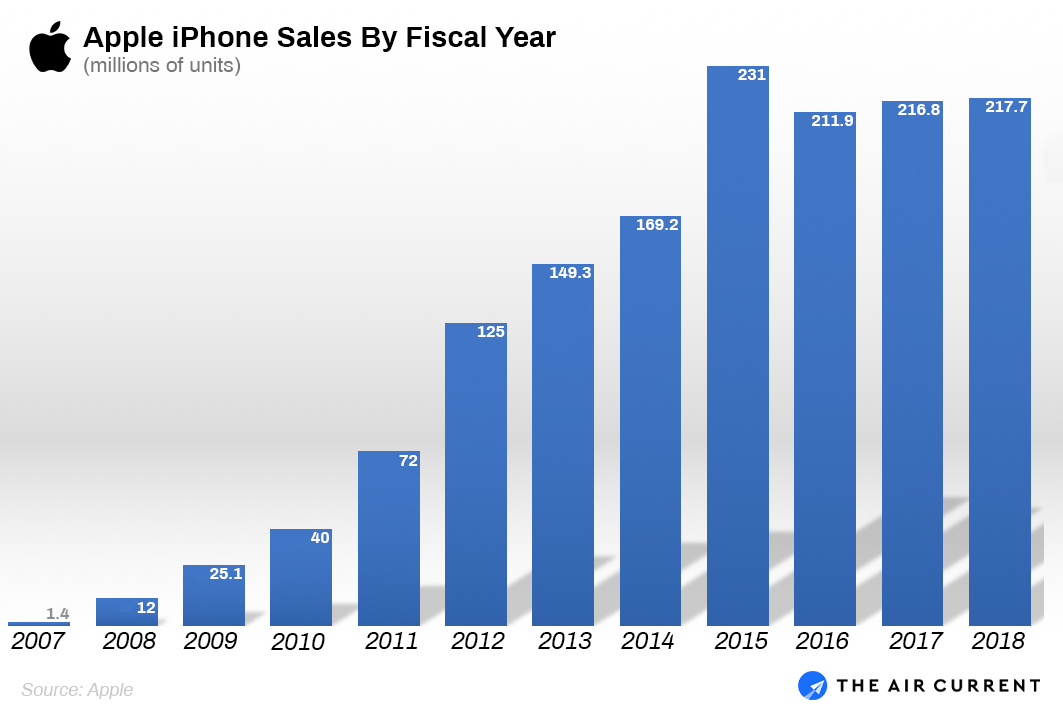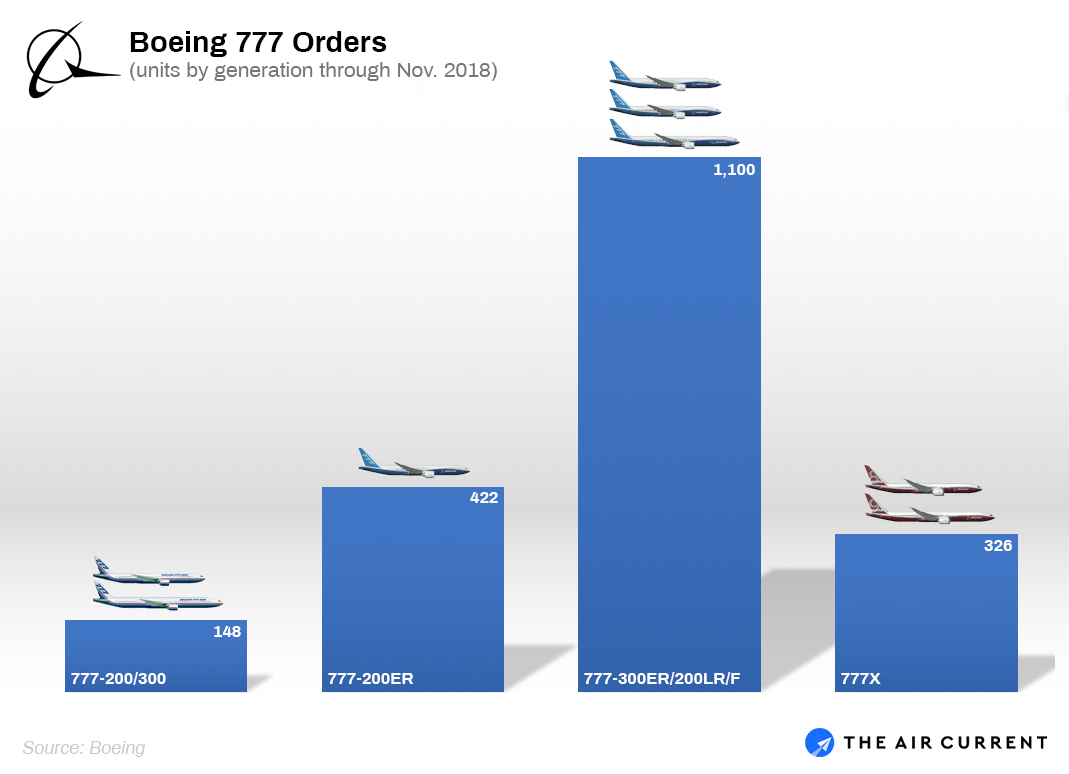 A Domestic Competitor
Boeing and Airbus don't yet have a viable Chinese competitor with which to contend. Apple does. Four major local competitors in China: Huawei, Xiaomi, Oppo and Vivo all offer lower cost, and in some cases, equally capable technology to buyers.
The Sino-Russian CR929 is a long way off, and Comac is slowly adding C919 test aircraft. Yet strategic planners inside both Boeing and Airbus assume, however, that the second half of their respective multi-trillion dollar 20-year forecasts will be defined by a tri-polar aerospace world, not the superduopoly of today – at least inside China's borders.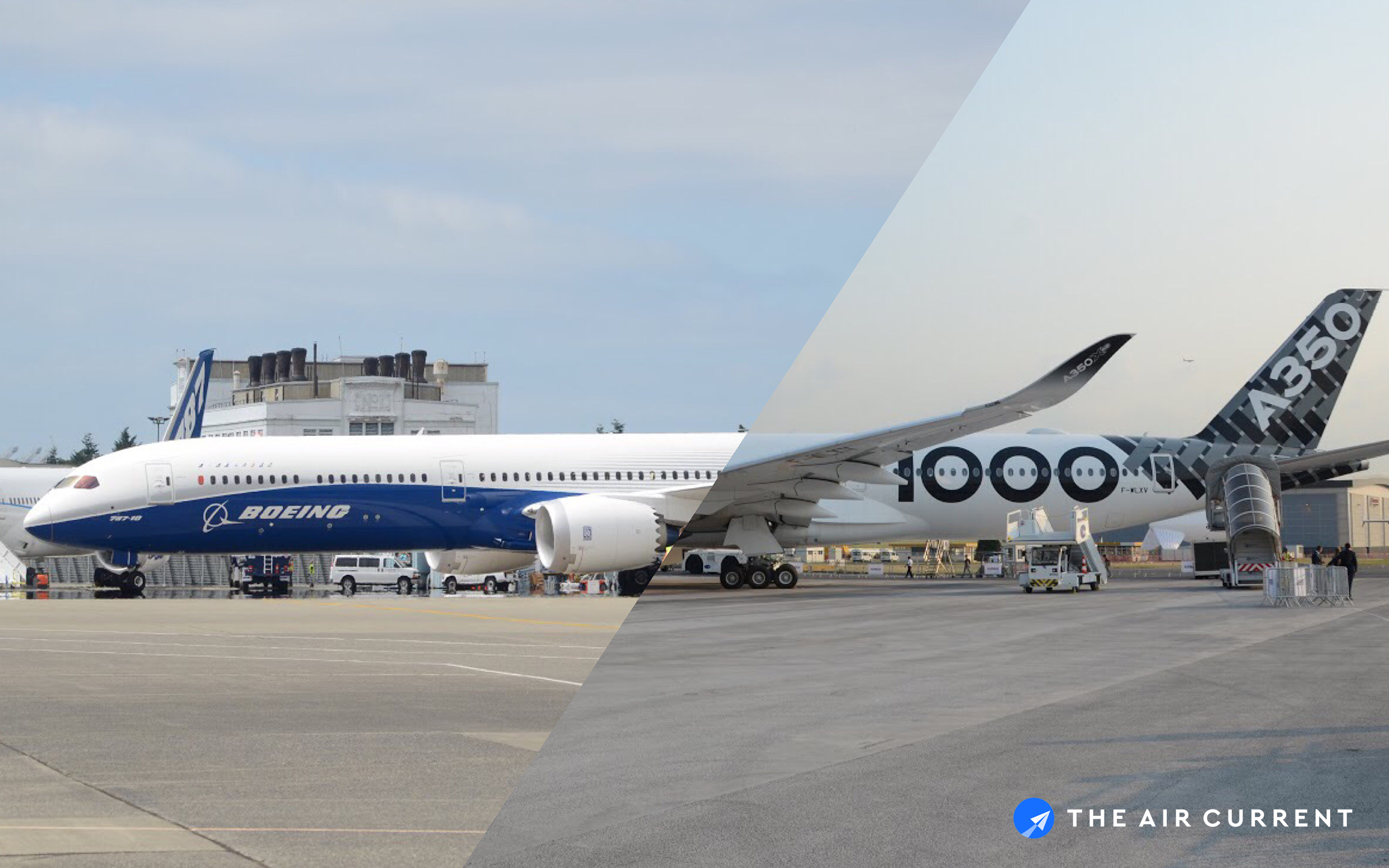 The 777X, however, globally faces more competition from Airbus and even Boeing's own jets as it succeeds the 777-300ER and its 799 deliveries.4To the end of 2018. On a range comparison alone, the average 777-300ER flight in 2018 clocked in at 3,170 nautical miles, less than a seven hour jaunt, according to Boeing. While smaller, that's a spot in the market for the A350-1000 and 787-10, too.
The Replacement Wave
Now Apple, Boeing and Airbus wait for a replacement wave of older phones and older planes — early 777s and A330s — to drive fresh sales.
For Apple, that wave didn't materialize. "In some developed markets, iPhone upgrades also were not as strong as we thought they would be," wrote Cook. He attributed the slowdown to a world where phone carriers didn't subsidize the recurring $199 price tag, which ended in 2015 with the iPhone 6s. That's keeping older phones 'flying' longer as "some customers [take] advantage of significantly reduced pricing for iPhone battery replacements."
Related: How the 777X's folding wing tips work
The aviation world should recognize this. With upgrades like fresh interiors or winglets, for example, the technological life of each airplane gets a natural extension. And there were a hell of a lot of 777s sold just recently. Of the nearly 800 777-300ERs flying, 53% were delivered since 2013. Steven Udvar-Hazy in 2016 said, "There is no great urgency to replace that fleet as they operate relatively few cycles in proportion to their flight hours."
And like the $1,000 Phone Xs, there's buyer hesitation about the 777X's price tag. Hazy's colleague and Air Lease Corp.'s Chief Executive, John Plueger, told the Wall Street Journal in 2013 prior to the 777X's launch "The hard part…is the pricing part." Air Lease hasn't yet gotten in line for the $426 million 777X and its possible near-$2 million monthly rents. In other words, the current crop of twin-aisle aircraft aren't that old and the premium price to upgrade them hasn't yet justified the investment. So is that iPhone sitting on your desk.
Write to Jon Ostrower at jon@theaircurrent.com