Business travel lags leisure early in coronavirus air travel recovery
Online search terms and social activity become bellwethers for air travel recovery, TAC Analysis finds.
---
Purchase and download a copy of this analysis
Passengers are returning to the skies, but recovery remains slow.
Online travel sentiment suggests leisure traffic is returning stronger than business traffic, with those visiting family and relatives as the most likely to fly.
Even with increased interest in summer vacations, leisure travelers are likely to drive.
Three months after COVID-19 nearly shut down flying in the United States, people are now slowly returning to travel. Already, some carriers are beginning to plan increases in capacity for the June schedule. Dallas-based Southwest Airlines, reported plans to increase capacity to 55% of that from 2019 numbers and by the end of the year will resume a full schedule by the end of the year. While aggressive, it still expects flights to be less than half full this summer.
As flights return, the challenge is now to understand how demand is returning. Questions also persist about various segments of traffic, as leisure and business travel trends diverge. The rate at which each segment recovers will drastically affect the overall ability for the airlines to recover.
Related: The airlines are staring down a slow and uneven recovery from coronavirus
As traffic inevitably begins its long climb back to 2019 levels, the warranted optimism around the "green shoots" does require a healthy dose of realism. Even though traffic is increasing five to ten times April levels, this is more an indication of just how low April numbers were.
Direct booking information is highly proprietary, but there are various clues that can be drawn from an unlikely source to begin predicting how passengers may return to the skies. Closely examining our collective lives on social media offers a unique set of indicators. In a new model developed by Visual Approach and presented in this TAC Analysis, the public's online searching, posting, and tweeting patterns prove strongly correlated with travel demand.
Using several techniques including natural language processing, a type of artificial intelligence designed to convert human language into meaningful data, online behavior on a topic is aligned with the overall activity of the market. The recent collapse of traffic from the pandemic created an opportunity to accelerate this research as it became evident which terms and topics were directly associated with air travel. The daily-published Transportation Security Administration screening data in the U.S. provided a metric with which to compare the results, allowing for direct comparisons.
The correlations between the calibrated model and TSA screening data is impressive, serving between 90% and 98% confidence. While not direct indications people are booking tickets to fly, the model serves to show that people are beginning to search for, and discuss travel once again.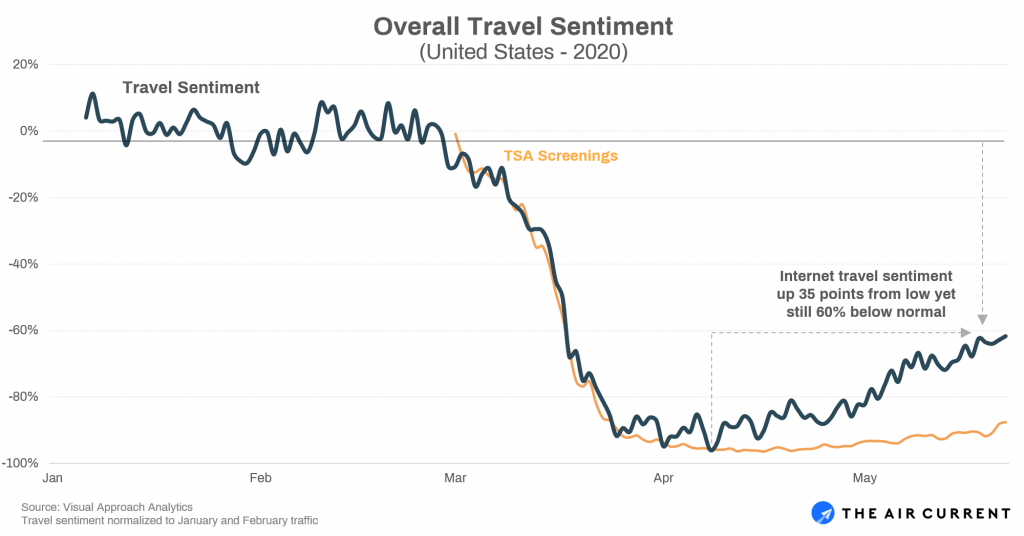 Overall sentiment has risen seven-fold from its lows in early April, suggesting much of the country is considering traveling once more. This out-paces the TSA screening numbers, supporting the airline's re-addition of capacity for the summer months and likely comments that signal early indicators of recovery.
Yet, as significant as the growth from lows has been, sentiment still remains only 40% of what it typically averages, suggesting the industry remains only slightly less under water than in April. This is also corroborated by the airlines recent announcement of plans for voluntary leaves and early retirements offered this week. As the markets cheer the return of passengers to airplanes, the limited data available still strongly suggests the rate at which they return remains catastrophically slow.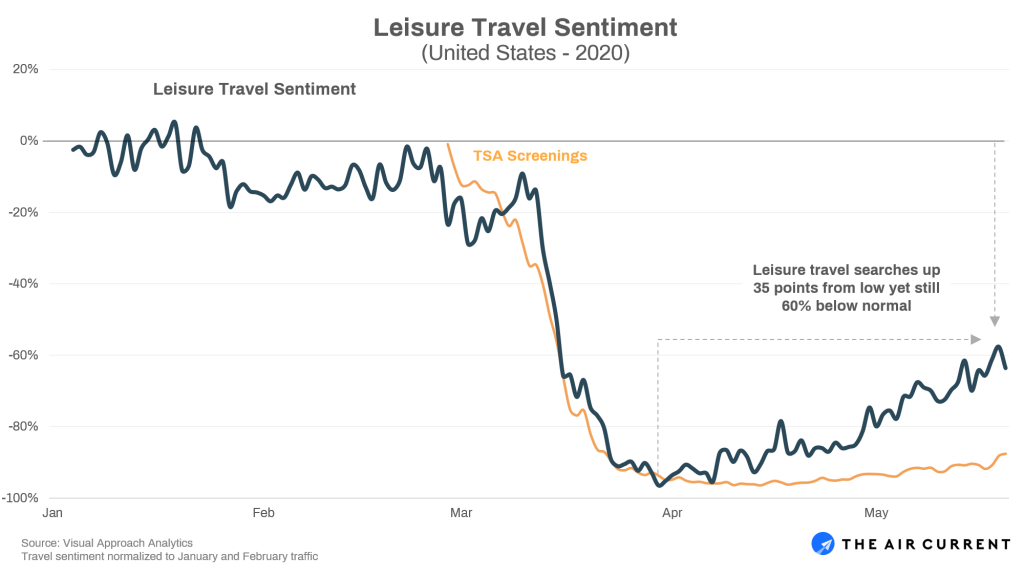 Even as the numbers show an uptick of passengers, according to the TSA, why they are traveling is still wildly divergent. Notably, all these indicators still remain far below pre-COVID levels, but with the summer season approaching, interest in leisure travel has returned strongest. Online activity around leisure travel, once down 95%, rebounded down 60% during the Memorial Day weekend. This includes discussion of travel, domestic flying, as well as air travel to visit friends and relatives.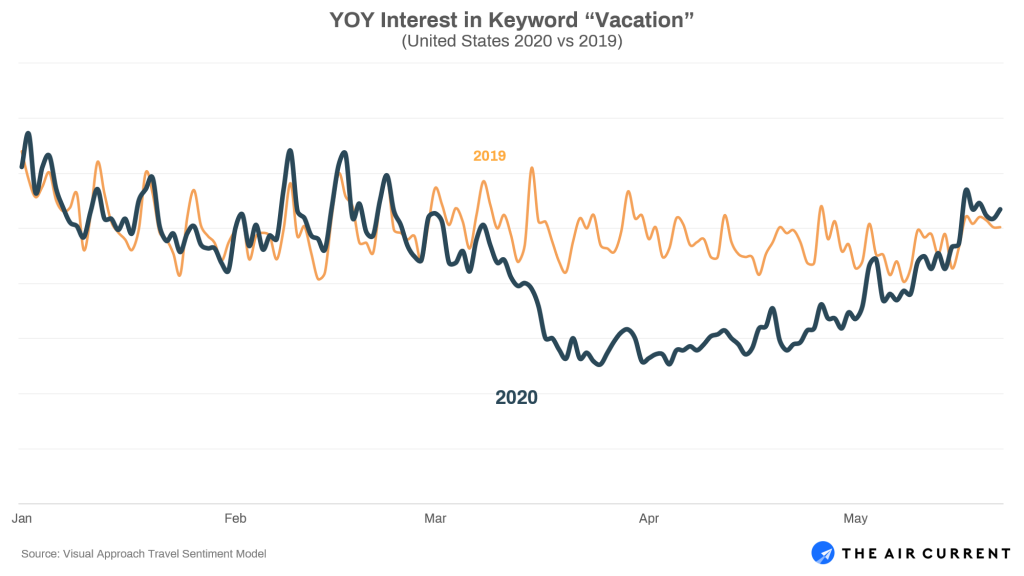 Yet, with all this renewed interest, in the midst of a pandemic there is no certainty that an eagerness to travel means an eagerness to travel by air. This is further evidenced by the full recovery of online activities related to vacation planning. This divergence of activity planning from air travel could be a dangerous near-term sign for the airline industry. Even though people are willing to take family vacations, it looks as though many may be road trips rather than on an airplane.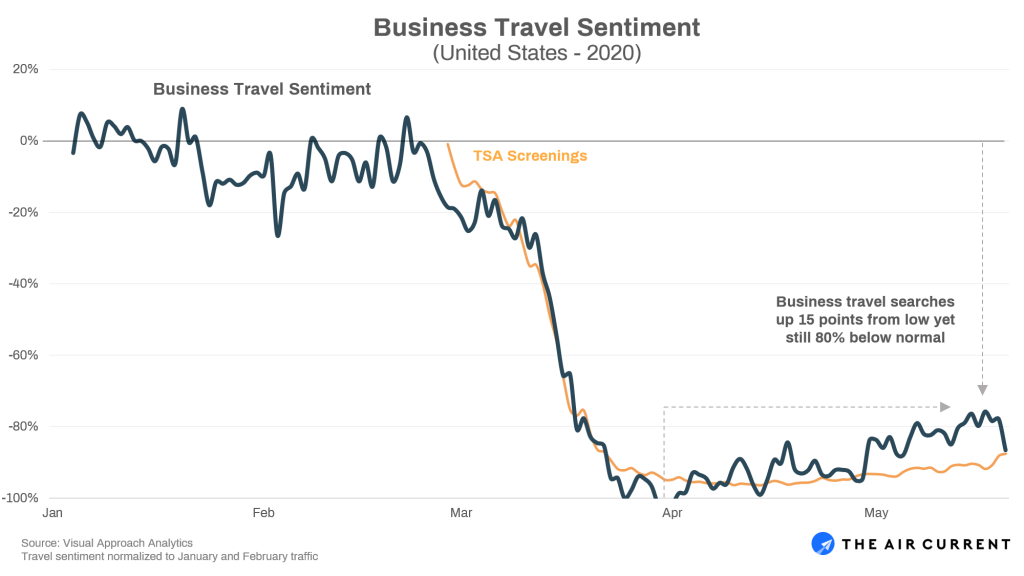 Business travel, however, remains stubbornly low. Often the highest yielding passengers for the airlines, online activity associated with planning travel for work remains less than 20% of average levels. This strongly suggests the industry will see a recovery in leisure traffic first, while business travel stagnates.
Related: A jittery industry begins to question if business travel will rebound after coronavirus
Whether this is indicative of a longer trend regarding business travel is yet to be seen, however widespread evidence of the rise of at-home video conferencing further lends to the possibility of a slow recovery. With many companies and states still on lockdown, or dispersing their staff away from centralized headquarters, the question remains who the business traveler can even travel to see.
Whether new tools will be sufficient to replace business travel on a meaningful scale is yet to be seen. The liability associated with employees traveling during a pandemic, however, is likely weighing down the segment, and will prove to be a challenge for the airlines through 2021 and beyond.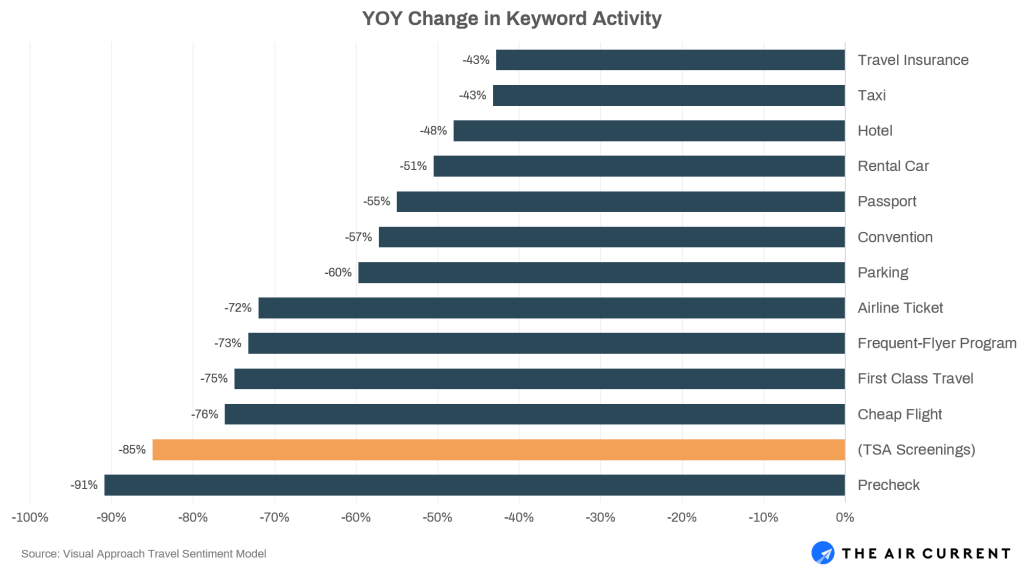 A select sample of keywords shows largely positive response when compared to the TSA's current bookings. Yet, as was the case with activity around the "vacation" keyword, caution is suggested when comparing individual sentiment. Take TSA's "Precheck", for instance, which likely shows a larger decline based on now-shorter security lines, for which there is now no interest in skipping them. The "taxi" keyword showed its largest increases in activity when New York emerged from lockdown, suggesting the bump in activity is from the resumption of normal activity rather than transportation to and from airports.
The sentiment model adjusts for each of these unique situations, often throwing out keywords that would be expected to correlate well. For example, "travel insurance" displayed both historic highs and lows within a month as a record number of people looked to find or file a claim on insurance for travel they had already booked. By mid-April, the activity had settled to a fraction of its already-low typical values as travel dried up.
With sentiment out-pacing TSA screening numbers the outlook does look positive, if slow. Still aligned within the recovery model first published on The Air Current in April, the return of passengers to the skies is in a race to outpace what will be an increasing amount of cash leaving the airlines as they accelerate flying into market uncertainty.
Write to Courtney Miller at courtney@theaircurrent.com
Next Post
Industry Strategy
The Mitsubishi SpaceJet — as we know it today — is dead
Passengers are returning to the skies, but recovery remains slow. Online travel...