Seattle — As WH001, the first 777X, was towed toward the Boeing Flight Test ramp after its first flight Saturday, January 25, an original 777-200 repurposed from Air China for the company's EcoDemonstrator program sat nearby. The juxtaposition was stark and an illustration of just how much the 777 has changed over the years. Retired Boeing test pilot, John Cashman, remarked that the jet had grown "just a tad" since he first flew the original 777 in 1994. The 777-9X is more than 52-feet longer and 35-feet wider (unfolded) than Cashman's red, white and blue WA001.
The 777X arrives on the world's stage at a time when Boeing more than ever needs to reassert its technical prowess and its capability at doing big, bold things well — an essential part of re-establishing trust with the flying public, airlines and regulators 10 months into the grounding of the 737 Max. And big is at the center of Boeing's pitch for the 777X. The first 777-9X's registration, N779XW, is a jab at its more-narrow2The A350 was designed initially for use with wider 18-inch seats at nine-abreast compared to the reshaped interior for 10-abreast seating at 17.2-inches each in the 777X. competitor in the A350 XWB or X-tra Wide Body.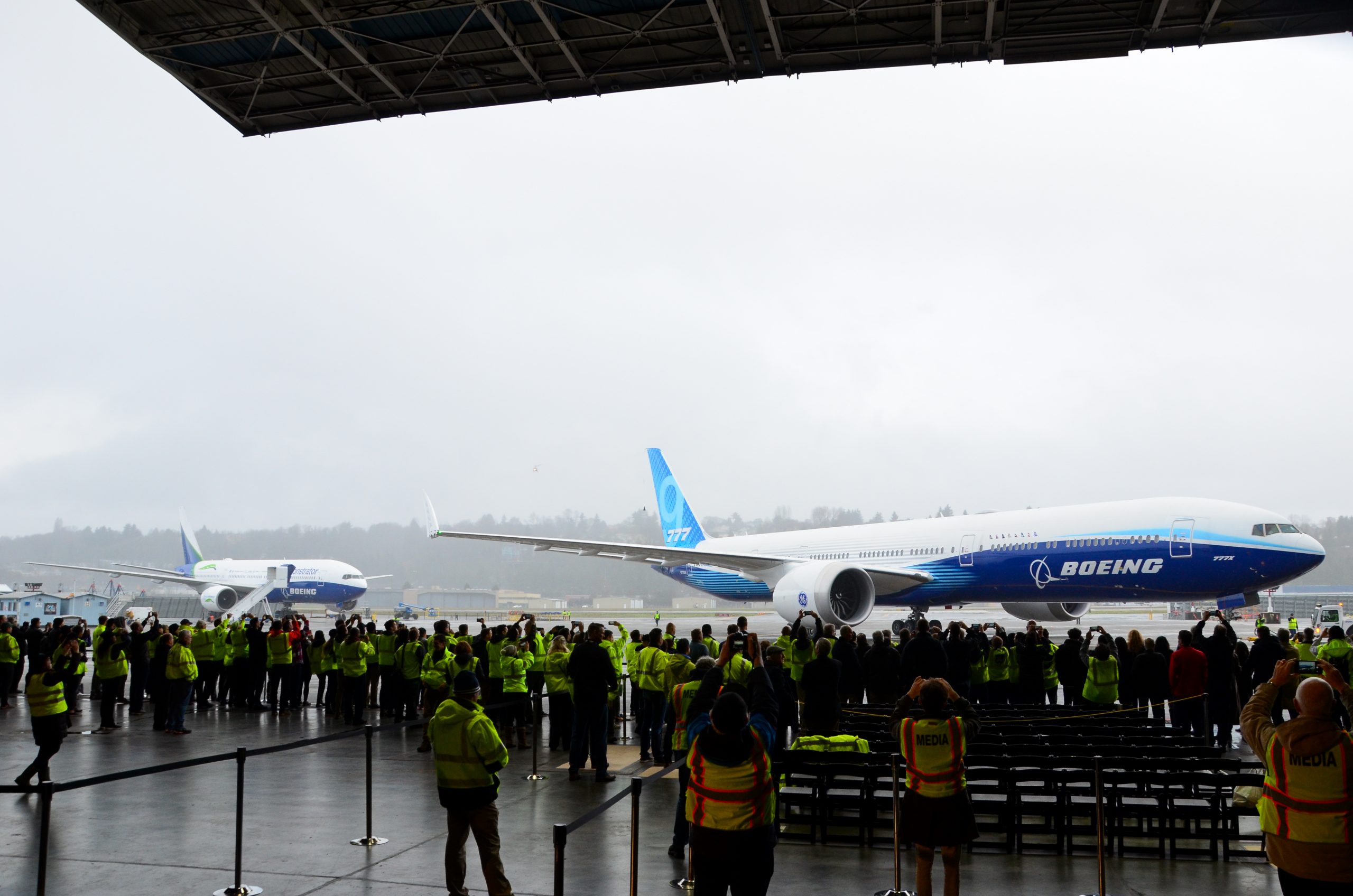 The jet's sheer size is the 777X's most notable attribute. Boeing began conceptualizing the 400-seat jet starting around early 2011, right as it was considering an all-new single-aisle jet it called Y1 or what would eventually become the 737 Max. It envisioned carbon fiber wings sprawling 234-feet tip to tip (the final design was 235-feet 5-in) and two new massive GE9X engines to go along with it.
Related: Apple iPhone Xs and Boeing 777X have the same problem
It is only the second time in the company's history it has replaced the wing on an existing airplane. The last time was 1993 when it decided to re-wing the 737 Classic to create the 737 Next Generation, using alloys first employed on the original 777. Boeing, which brought the manufacturing of composite wings back under its own umbrella after the 787 development, has created an unquestionably sharp-looking flying machine.
Continue Reading...