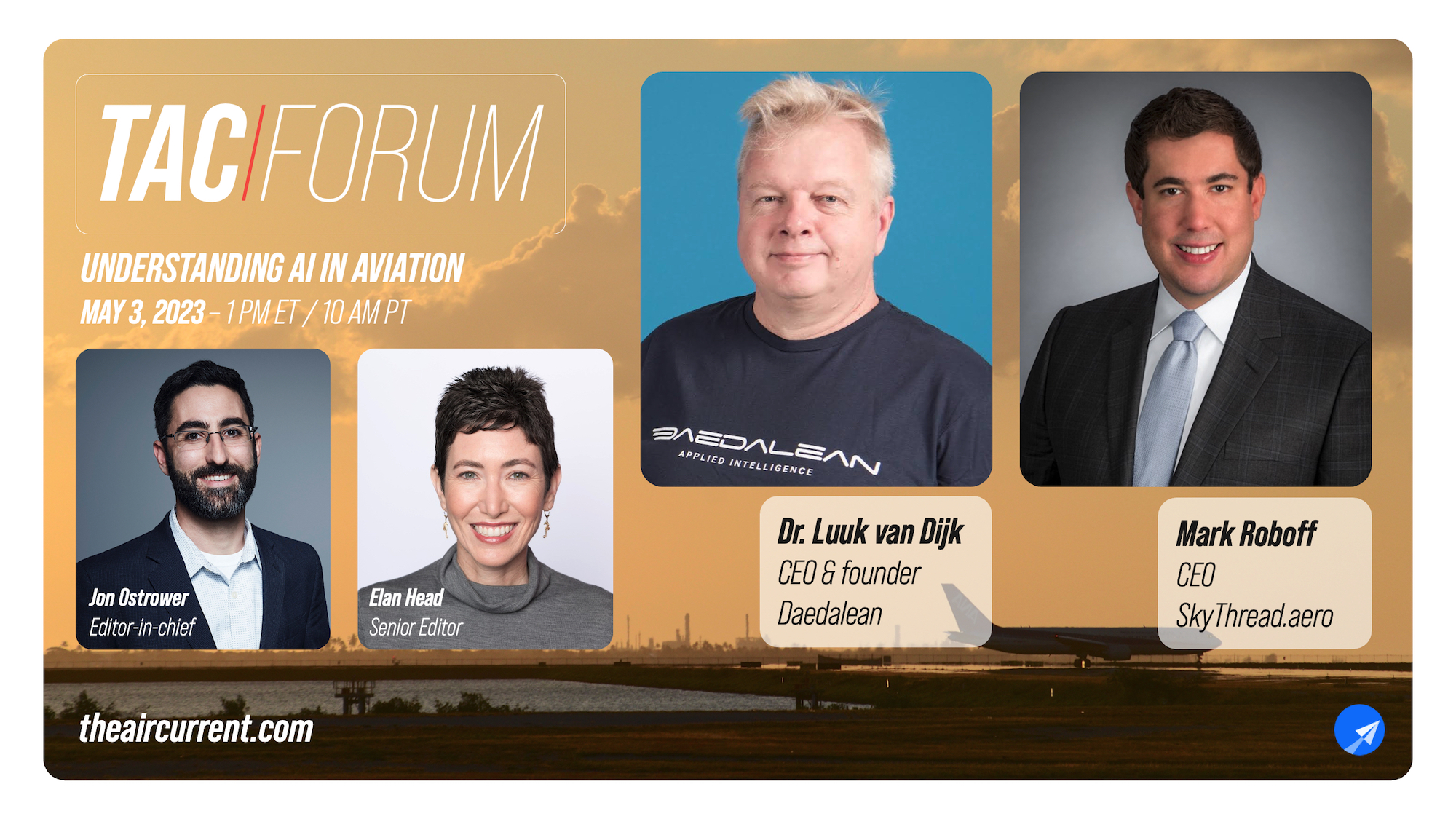 On May 3, 2023, The Air Current's Editor-in-chief Jon Ostrower and Senior Editor Elan Head hosted an in-depth and candid discussion around artificial intelligence with Dr. Luuk van Dijk, CEO and founder of the AI startup Daedalean, and Mark Roboff, CEO of SkyThread.aero, who chairs the SAE/EUROCAE standards committee working with the FAA and EASA to define a means of compliance for the certification of machine learning.
Generative AI applications like ChatGPT have recently thrust AI into the spotlight, and machine learning is poised to have a profound impact on the aviation industry as well, ultimately enabling reduced crew and fully autonomous operations. But demonstrating the accuracy and reliability of machine-learned algorithms to the level required for certification is not a simple process.
We talked about how AI will be used in aviation, how industry and regulators are grappling with the questions around certification, and whether machine learning can create an autonomous system that is a better pilot than a human (spoiler: Luuk and Mark both think the answer is yes). We also discussed the hardware requirements for putting AI onboard an aircraft and how machine learning could impact aircraft design and engineering.
Some recommended reading from The Air Current:
TAC's digital event series is open to subscribers only.
For our TAC/Pro and corporate subscribers, our digital event series is open to both registered users and interested members of their teams. Please contact us to learn more about TAC/Pro and corporate subscriptions to secure access for your teams.
More about our guests
Dr. Luuk van Dijk is the CEO and founder of Daedalean, a Zürich-based startup developing flight control software for autonomous flight, with the eventual goal of creating an AI pilot that will measurably outperform human pilots in all their functions. Currently, Daedalean is working with regulators, leading aerospace manufacturers, and major eVTOL companies to test and certify the first machine learning based sensor systems for guidance, navigation, and flight control.
Luuk has a Ph.D. in Physics (UvA, RuG) and previously held senior software engineering positions at Google Zürich and SpaceX, where he worked on infrastructure, flight software, and machine learning projects, among others.
Mark Roboff is CEO of SkyThread.aero, a new venture building the future of digital connectivity for the aviation industry. Previously, Mark was general manager for Digital Transformation, Aerospace & Defense at DXC and prior to that, he served as global solutions leader, Aerospace and Defense (A&D) at IBM.
Mark has over 15 years' experience in aviation digital transformation — both as a software engineer and as a business and technology executive. Mark is a recognized thought leader on artificial intelligence and machine learning as well as MRO data, processes, and analytics. Mark has worked on and contributed to many of the industry's largest digital MRO platforms, and he has also worked with dozens of airlines across the globe on prognostics, predictive maintenance, and the optimization of maintenance execution.
Mark is also the chair of the SAE G-34/EUROCAE WG-114 Joint International Committee for AI in Aviation, and is leading 500+ aerospace engineers, software developers, data scientists, safety experts and regulators to define a means of compliance for AI certification.