"Our number one goal is to make sure that we don't deliver aircraft until they are fully capable and they will require no [modifications] after they deliver," said Mike Gibbons, Boeing's KC-46 Vice President and General Manager. That was May 2017.
At the start of 2019, that wouldn't be the case. The U.S. Air Force took contractual delivery Thursday morning of the first KC-46 Pegasus, the service's long-awaited refueling tanker. It's a major milestone for both Boeing and the Air Force after almost two decades that started with scandal, a lost contract, a protest and a messy, protracted development program.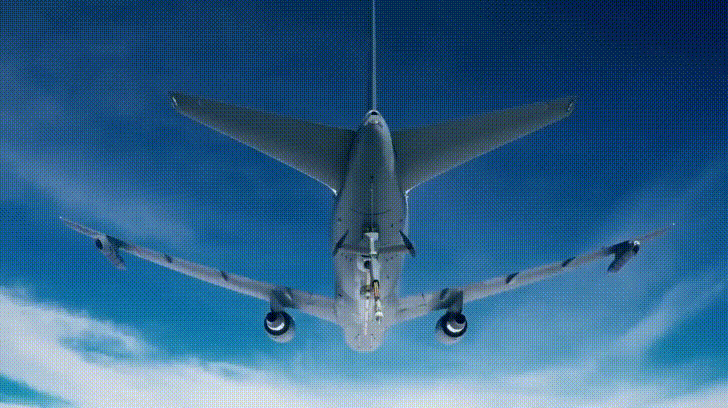 The USAF accepted the first new tanker with an asterisk. The Pentagon is withholding 20% or $28 million of its payment on each aircraft until outstanding category one deficiencies are fixed. The first is with the aircraft's RVS or remote vision system that gives the boom operator a 3D digital workstation2Because of the requirement to operate in a chemical warfare environment with a bio-protection mask on, Boeing opted away from a head-mounted display for the boomer.view that replaces the famous porthole in the tail of the KC-10 and KC-135 fleet for the Pegasus's covert flying.
Related: The linchpin technology behind Boeing's 797
The problems in the visual system come in two particular conditions: "Deep shadows cast over the receiver when you're flying into the sun or low sun angles where the sun is reflecting off of the receiver aircraft into the camera system," according to Boeing's Tom Russell, Director of Satellite Systems. Russell was brought over from the company's space division to fix the system. Boeing delivered a software tweak with the first tanker, but the Air Force said in its January 10 announcement, "We have identified, and Boeing has agreed to fix at its expense, deficiencies discovered in developmental testing of the remote vision system." The fixes to the RVS are expected to take three to four years to implement.
Continue Reading...