The Federal Aviation Administration's top official in an internal memorandum and video to the agency pushed back on what he described as "pressure" to return the Boeing 737 Max to service.
"I know there is a lot of pressure to return this aircraft to service quickly," according to a video from FAA Administrator Steve Dickson distributed to FAA employees and reviewed by The Air Current. "But I want you to know that I want you to take the time you need, and focus solely on safety. I've got your back."
Subscribe to TAC
Dickson's message does not specify the origin of the pressure, but the creation of the video and a November 14 memorandum to safety chief Ali Bahrami was in direct response to the Monday "progress report" from Boeing that said the company expected the FAA to approve the final Airworthiness Directive that would clear the 737 Max by December, according to a U.S. official.
"The FAA fully controls the approval process," wrote Dickson to Bahrami.
Boeing did not immediately respond to a request for comment.
While Dickson's message doesn't necessarily throw Boeing's guidance in question, it does underscore the rift between the plane maker and its chief regulator, which is under intense scrutiny from its global peers and U.S. legislators as part of the on-going grounding of the Boeing jet.
The 737 Max "will return to service only when we deem it safe to do so," said Dickson in the video message.
Boeing on Monday wrote that the company "continues to target FAA certification of the MAX flight control software updates during this quarter" and included a prefacing hedge that the "FAA and other regulatory authorities will determine the timing of certification and return to commercial service."
The year-end timeline advanced by Boeing, however, has met significant skepticism privately, including by one top 737 Max customer who felt the expectation of a December clearance was unrealistic.
Both the FAA and other stakeholders viewed the Boeing statement as overt public pressure to recertify the 737 Max by the end of 2019. President of Southwest Airlines Pilots Association on November 13 wrote that Boeing was "increasingly publicizing" that it may have to shut Max production as it is running out of room for aircraft storage.
"There is some concern that this is simply another tactic to push the RTS timeline up, force operators to resume making payments on MAX aircraft, and transfer some costs, logistics, and responsibilities of storing and restoring the MAX to revenue service to respective operators," wrote Capt. Jon Weaks in a letter to the Southwest Airlines pilot corps.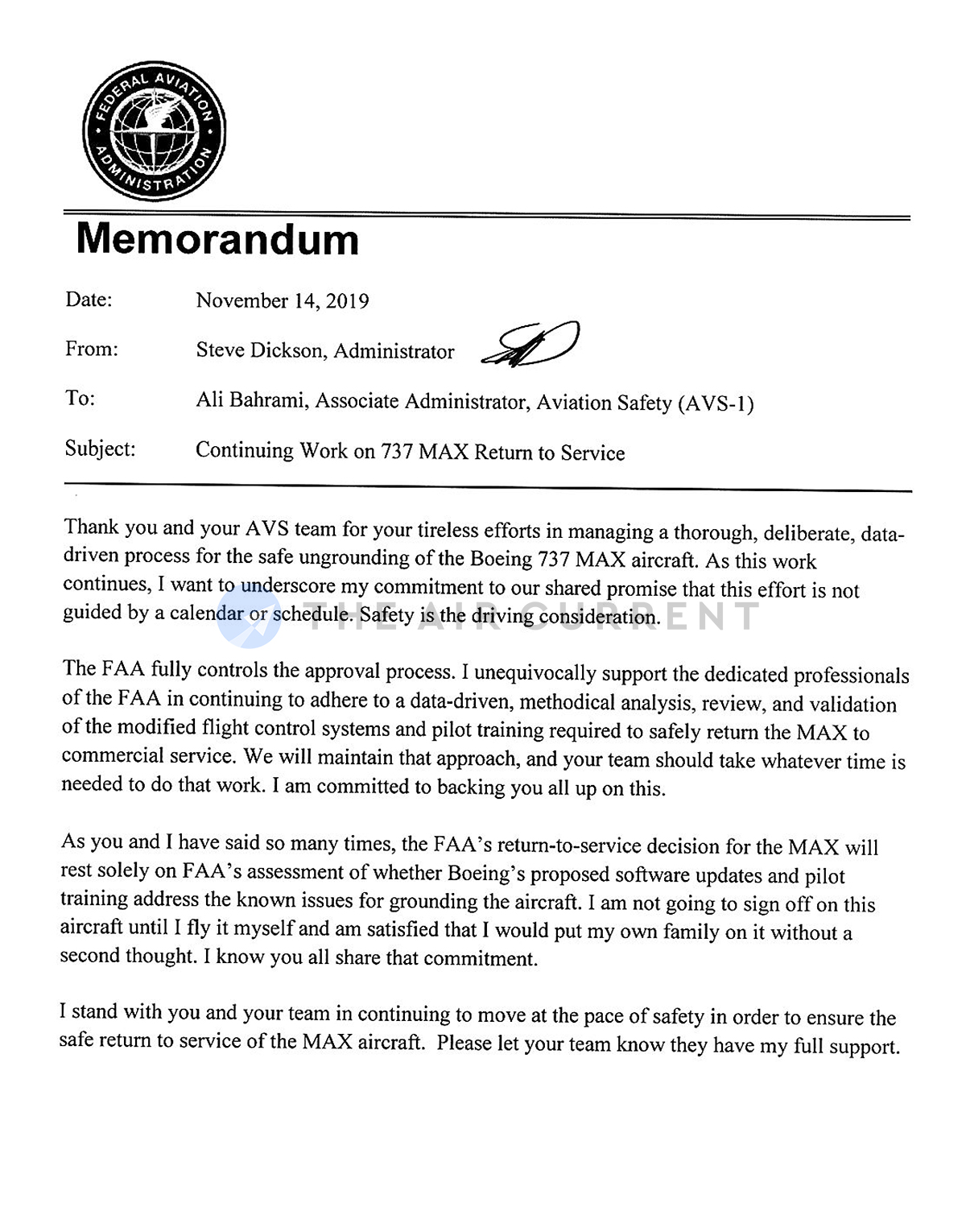 Write to Jon Ostrower at jon@theaircurrent.com